In today's digital age, businesses must have a solid online presence to stay competitive. However, managing digital marketing campaigns can take time and effort. This is where hiring a digital marketing agency can help. Here are five benefits of hiring a digital marketing agency for your business.
Access to Experienced Experts
Digital marketing agencies have experts who are knowledgeable in diverse areas of digital marketing, such as SEO, social media, PPC advertising, and content marketing. These experts have years of experience creating and implementing successful digital marketing campaigns. Thus a digital marketing agency helps to develop a customized strategy that meets your business goals.
Cost-Effective Solution
Hiring a full-time digital marketing team can be expensive. Apart from compensating employees and providing benefits, investing in the necessary tools and technologies to execute effective campaigns is also crucial. You can save money on these expenses by hiring a digital marketing agency. As these agencies have access to the latest tools and technologies which can provide cost-effective solutions.
Time-Saving
Managing digital marketing campaigns can be time-consuming. By hiring a digital marketing agency, one can free up time and focus on other critical aspects of their business. These agencies handle everything from creating content and managing social media accounts to optimizing your website for search engines. They also help in running PPC campaigns.
Scalability
Digital marketing agencies can scale their services according to your business needs. If you need more resources to run a campaign or if you want to expand your online presence, a digital marketing agency can provide you with the help you need. Digital marketing agencies can adjust their services to meet your changing business needs.
Measurable Results
Digital marketing firms leverage data and analytics to monitor the effectiveness of their marketing initiatives. They can provide you with detailed reports on the success of your campaigns, including metrics such as website traffic, leads, and sales for instance. By tracking the performance of your campaigns, you can make data-driven decisions as well as improve your ROI.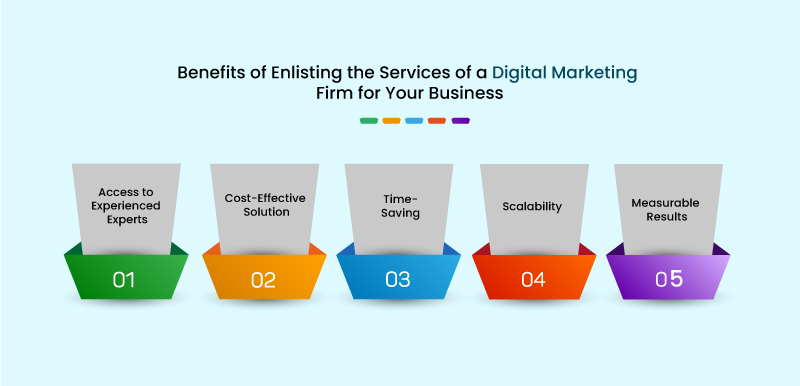 In conclusion, hiring a digital marketing agency can provide your business with the expertise, cost-effective solutions, time-saving benefits, scalability, and measurable results to stay competitive in today's digital landscape. Additionally, digital marketing agencies can give your business valuable insights into your target audience's behavior and preferences. By analyzing campaign data, they can help you understand your audience better and tailor your marketing efforts to their needs and interests. Moreover, digital marketing agencies are up to date with the latest and forecasted trends and changes in the digital marketing landscape. Staying abreast of the newest trends and most effective techniques in the digital marketing sector can be demanding, as the industry is constantly in flux. Hence, working with a digital marketing agency ensures your business uses the latest and most effective digital marketing strategies.