Top Ranked
SEO / Digital Marketing Agency in Canada
Want to kickstart your project?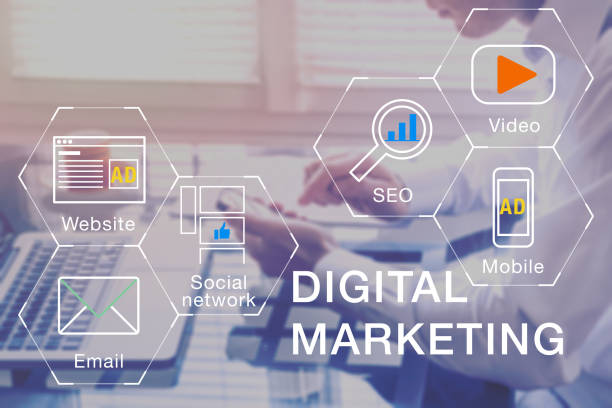 What is Digital Marketing?
Digital marketing is a broad term that encompasses all marketing activities conducted through digital channels, including search engines, social media, email, websites, mobile apps, and other digital platforms.
The goal of digital marketing is to reach and engage with potential customers using a variety of tactics, such as content marketing, search engine optimization, social media marketing, email marketing, and paid advertising.
The use of data and analytics is also a critical aspect of digital marketing, as it enables marketers to measure and optimize their efforts for maximum effectiveness and return on investment (ROI).
Why does a Business Needs Digital Marketing?
A digital marketing service can help increase your business's visibility online by optimizing your website and social media channels for search engine optimization (SEO). This can help drive more organic traffic to your website, resulting in more leads and sales.
3) Connect with customers
Digital marketing services can also help you connect with your customers through email marketing and social media campaigns. By engaging with your customers, you can build relationships and loyalty.
Digital marketing services can help you build brand awareness by creating content that resonates with your target audience. This can include blog posts, videos, infographics, and more.
4) Track and measure results
Digital marketing services can help you track and measure the performance of your campaigns. This can help you make data-driven decisions and optimize your campaigns for the best possible results.
The digital marketing landscape is constantly evolving, as new technologies and consumer behaviors emerge, making it a dynamic and exciting field.
Digital Marketing services we offer
SEO (Search Engine Optimization)
Helps clients increase their website's visibility and rankings on search engines like Google. This service includes technical optimization, on-page optimization, and off-page optimization to improve organic search results.
PPC (Pay-Pay-Click) Advertising
Helps clients generate more leads and sales through paid search advertising. This service includes keyword research, ad copywriting, and campaign management to help clients reach their target audience and achieve their business goals.
SMM (Social Media Management)
Helps clients build their brand and engage with their audience on social media platforms. This service includes social media strategy development, content creation, and community management to help clients increase their reach and engagement on social media.
Helps clients connect with their audience and promote their products or services through email. This service includes email list building, email template design, and campaign management to help clients create effective and engaging email campaigns.
Helps clients create and distribute valuable, relevant, and consistent content to attract and engage their target audience. This service includes content strategy development, creation, and distribution to help clients build their brands and generate more leads and sales.
SEM (Search Engine Marketing)
Helps clients in using paid advertising to promote websites and increase their visibility in search engine results pages (SERPs). This typically involves creating and bidding on ads targeted at specific keywords, retargeting, and conversion rate optimization.
Why Choose Knovatek Inc. ?
24/7 Seamless Customer Support​
High Rated on All Platforms
Frequently Asked Questions
Digital marketing is the process of promoting products, services, and brands through digital channels such as search engines, social media, email, and other websites. It involves using tactics such as search engine optimization (SEO), content marketing, influencer marketing, and more to reach and engage customers.
Digital marketing can help your business by increasing brand awareness, generating leads, driving traffic to your website, and improving customer engagement. It can also help you create more personalized experiences for your customers, measure and analyze your results, and build relationships with your customers.
Traditional marketing relies on physical mediums like print and television to spread messages, while digital marketing utilizes digital technologies like websites, email, and social media to reach customers.